It's hard to imagine and yet researchers are trying to clone a foal that lived on Earth 42,000 years ago. Remains of animals are repeatedly found in Siberian permafrost. At the North-Eastern Federal University in Yakutsk such finds, the mammoth fauna and their habitat are explored. The foal, found in 2018, is as well preserved as none before. Fur and hooves are clearly visible. Researchers have studied the animal over the past few months and even discovered blood and urine.

"I would like to note that indeed, visually, the preservation of this ancient object is unique," explains NEU professor Darima Garmayeva. "Almost all internal organs are anatomically preserved, but the results of morphological studies will show the degree of preservation of the architectonics of tissues and cells in permafrost conditions"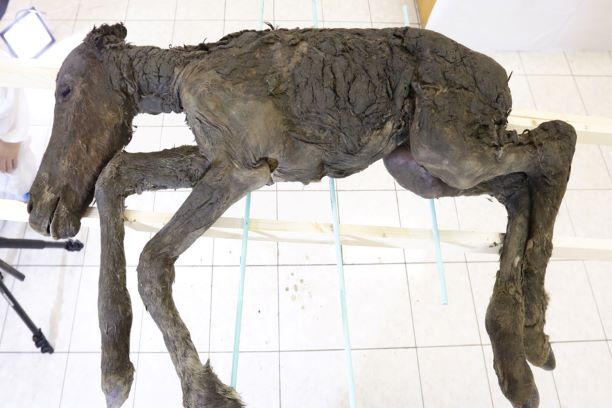 The fossil was found randomly in a 100-foot-deep crater. Probably it was one to two weeks old when it died. It was a horse of the species Equus lenensis, a wild horse that lived in the Ice Age. Genetically, they differ from the horses now living in Yakutia. Whether the researchers can find a cell with which cloning can succeed is yet to be seen. In any case, the fossil is an important testimony of past life on Earth.
A video of the Siberian Times