Anyone who thinks of four-in-hand carriage drivers immediately thinks of wide terrain, long distances and mighty obstacles and sporty carriages. There are also dressage tasks in various gaits similar to dressage or obstacle driving, where it is all about skill. At the International Jumping Competition "Jumping Indoor Maastricht" there will be competitions for four-in-hand drivers in addition to the show jumping competitions. It's about a lot, because it's World Cup. Ten of the best four-in-hand drivers in the world compete for the coveted trophy in a series of ten tournaments. Although the hall is large, it is intended for jumping tournaments. The space is limited and you might think it's all about skill tests for the four-in-hand drivers. The opposite is the case. Full-speed describes the whole thing more aptly. Fleet, modern music makes the competition a show. And the audience is excited.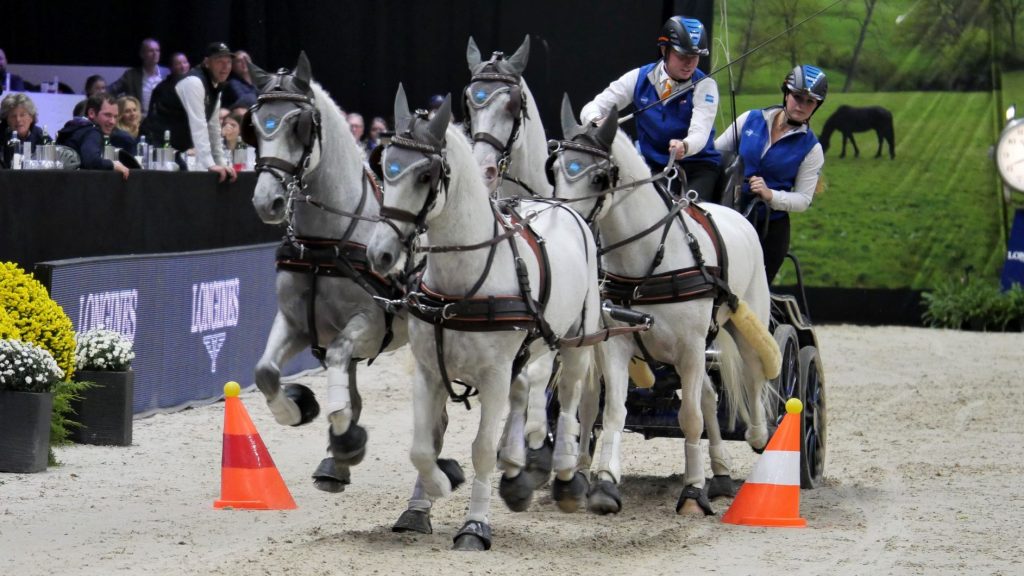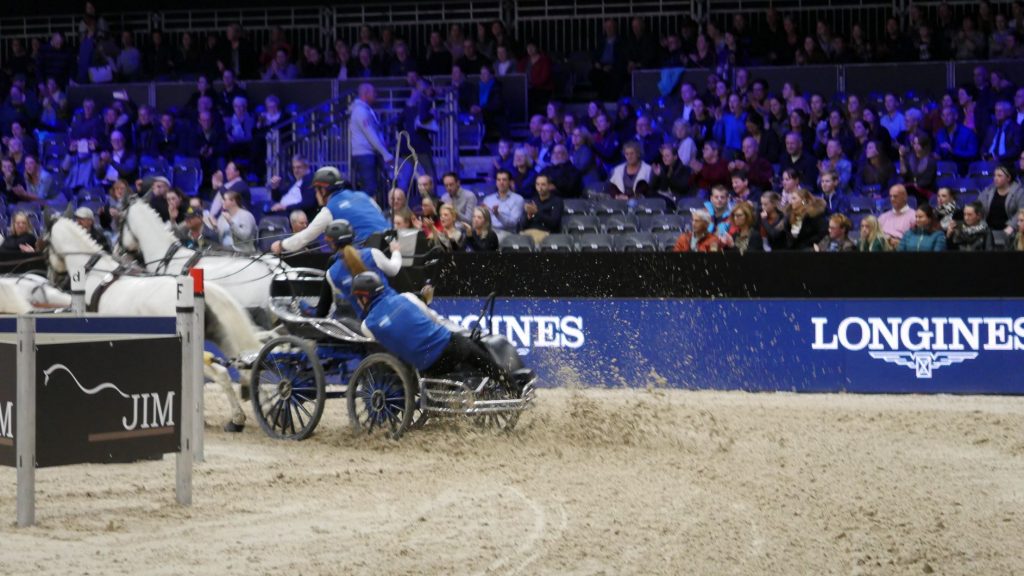 34-year-old Mareike Harm from Negernbötel in Schleswig-Holstein will be there. Maastricht is their first indoor tournament and it is also a sensation. Because never has a woman participated in a Driving World Cup. With eighth place in the world rankings, she has qualified for the World Cup. Very high speed and very technical elements in artificial terrain obstacles alternate. In the cross-country, called marathon, the teams have to overcome natural and artificial obstacles, in a long route. And that's exactly what it means to four-in-hand drivers at the World Cup – but relocated to a hall.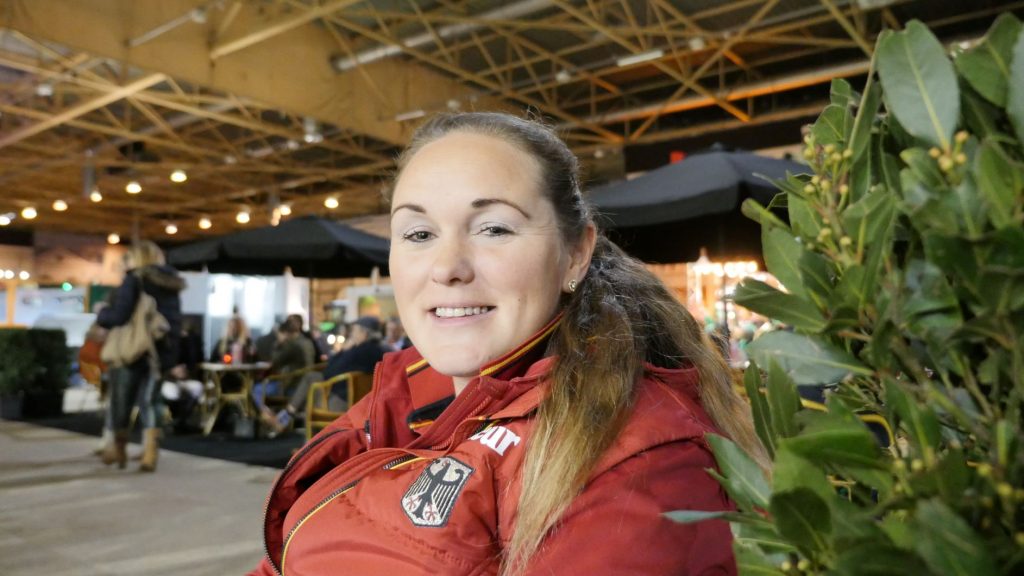 "I never thought I could be in the top ten of the best in the world. And I never thought I would actually drive World Cup. It's really an incredibly fast pace being driven there." Mareike Harm
In conversation with Mareike Harm
Indoor for a carriage driver: Isn't that weird?
Mareike Harm: "Yes, that's really weird, I wasn't sure at the beginning whether I should do this at all, because it is clear that I actually have no chance of being well placed. But everyone says it's so special to run these indoor tournaments, it's so great to be here in the big halls that I said I'll just do it. We have fun and take a lot of experience with us and maybe this is also a chance to improve in the marathon."
Improve – how that?
"Four-in-hand World Cup that's full speed, it's a combination of bowling, very high speed and very technical elements in the obstacles. Two obstacles are built with a number of cones between them. Indoor driving is, of course, about skill, but above all about speed. And you practice all winter to drive these obstacles. It's a very different speed than outside, a much higher basic speed and you get faster with your hands, faster in grip."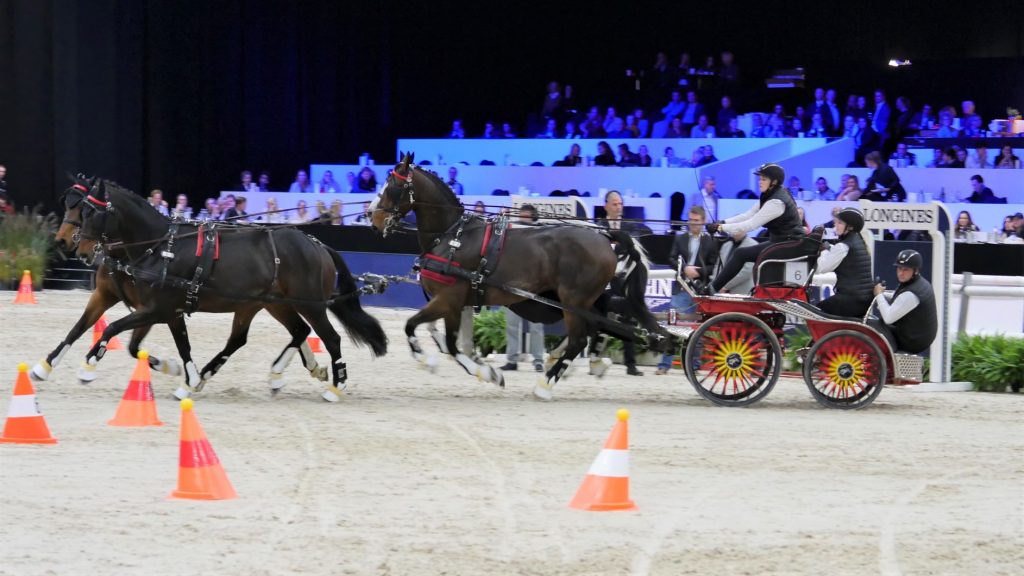 Mareike Harm is eighth in the world rankings. Nevertheless, she herself thinks that she has no chance of a good place in the World Cup.
"My strongest disciplines are dressage and cone driving. In the marathon I'm just not as strong as the men. Of course, this also has a bit to do with strength, here with indoor driving it is really a pure speed matter. The other men have been doing this for many years, have extra indoor teams that they have built up over a long time. It was only relatively late for me, only in the middle of the season in Aachen, oh, it could be that we are qualified."
The six teams are warming up in the preparatory place at the same time. Is not the place too small?
"That's big. This area is very beautiful. London I've heard is really a 20×40 a-width hall with a pole in the middle – that's going to be more exciting. Here we already have quite a lot of space available."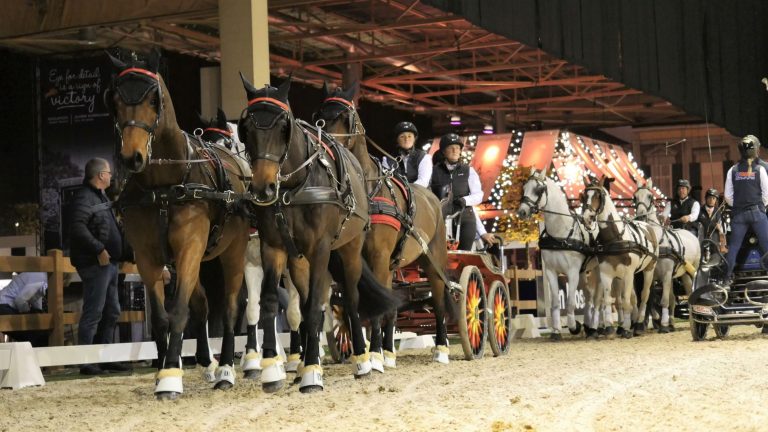 Mareike Harm has five horses at the tournament, but 17 horses in training for international sport. In total, they are three in Maastricht. She drives the truck from Schleswig-Holstein herself, as she does to all other stations. To London it will go by ferry.
A total of ten participants have qualified for the World Cup, but not everyone rides every tournament. Mareike Harm has to go to four tournaments. In addition to Maastricht, these will be Stockholm, Geneva and London. She has a wildcard in Stuttgart and can gain experience there. There will be no World Cup points for her there.
Unity at the team meeting
A woman in the men's world Four-in-hand Driving
Mareike Harm is the first woman ever in the history of Driving World Cup. As a woman in the men's world – where is the special feature for you? Or is it not at all?

"Yes! Of course. It's something special. I never thought I would be in the top ten of the best in the world, and I never thought I would actually go to the World Cup. Because it's such an unbelievably high speed that the others are driving there. And I still have the special challenge that I don't have a special indoor team, but I start with my dressage horses. So the others have very small, very fast, very agile Lipizzaner, who only take them for the hall, and yes, I have my dressage horses with me." And Mareike laughs a lot.

In 2010, Mareike became German Champion and Team World Champion in one-horse carriage. Then she made a plan:
"I just decided to put all the single-horse horses together into a four-in-hand and together I went straight from one-horse carriage to the four-in-hand sport. Everyone thought I was crazy, and smiled, because I did not have any experience and then as a woman. But that worked well, because the horses were all well-trained and in good shape, so we had a pretty good time in the four-in-hand sport in dressage. But with the marathon, that's just a long way. And then as a woman – that's not so easy."

Why isn't it so easy as a woman?
"Yes, it has a little bit to do with strength. If you drive with four horses full speed into the obstacle and then have to bring them back before the first turn, then you sometimes have something in your hand! I can only drive in so fast, [laughs] how I can get them back and get them round the corner [laughs]."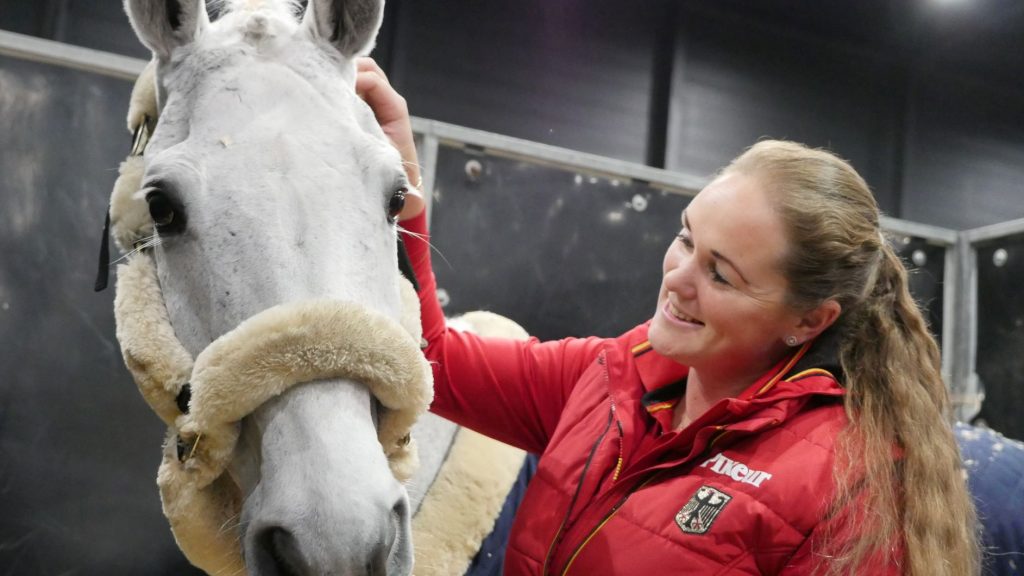 "Every horse is different and has completely different needs in dealing. Especially in driving you have to form four of them into one unit. You have to get the best out of every horse to the point. That fascinates me not only on the horse, but also on four-in-hand driving."
World Cup points for the third place
In the competition she gets the horses on pace and also braked again. Their first indoor tournament was excellent. "I'm mega-happy. It couldn't have gone any better in our first World Cup tournament. The horses were really good and gave everything." Mareike Harm finished in 4th place. Because Bram Chardon started with a wildcard, the World Cup points count for third place. Mareike starts next week with a wildcard in Stuttgart.
Stations Driving World Cup 2019-2020
Lyon/France, Maastricht/Netherlands, Stuttgart/Germany, Stockholm/Sweden, Budapest/Hungary, Genf/Switzerland, London/Great Britain, Mechelen/Belgium, Leipzig/Germany, Bordeaux/France – Final 7.-9. Februar 2020